Greetings Fellow Frazzfuckers, Noize Droids & Society Grinders,
As the Sun-Ra approaches climax season, we have been working alot on "tribal celebrations" (AKA. Parties).


1st up,
THE REGIME
, on
Friday 5th June
with
Hellfish, Teknoist, Dr Bastardo + Kinsheeva @ The Volks, Brighton.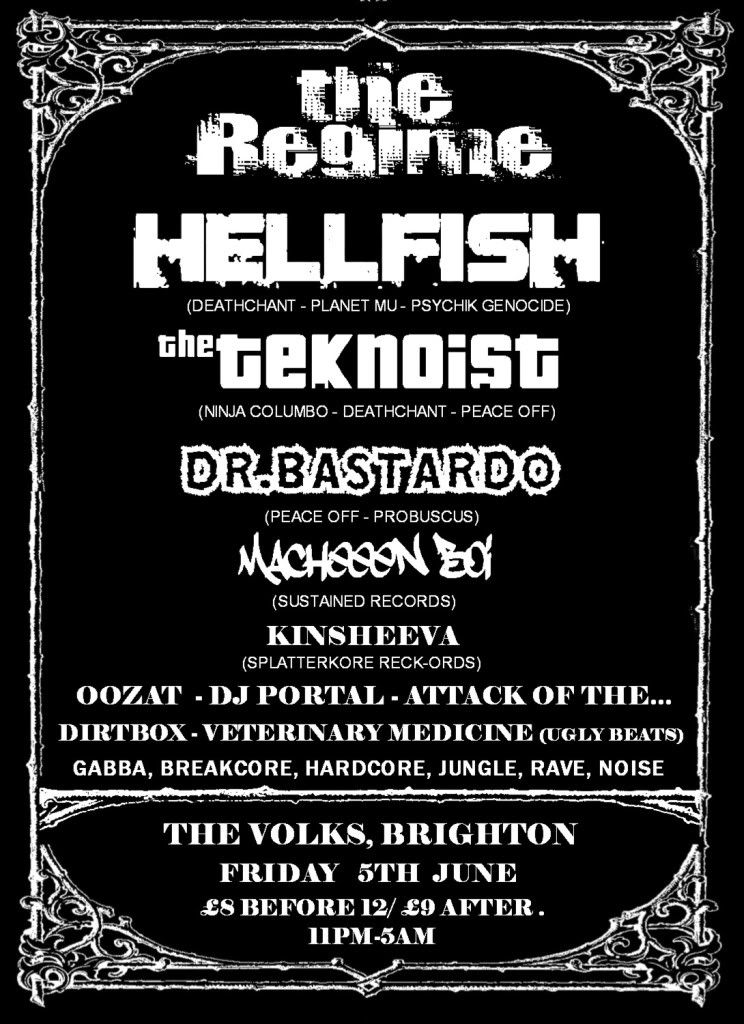 Next we have,
RAVE AGAINST THE MACHINE
:
Friday 26th June in London
with the Pokora Soundsystem, where we will be hosting the the one and only
KOMPREX
(IT
ALY)
, plus Splatterkore, Rigormortis and Pokora artists.
Finally,
SPLATTERBLAST
, on
September 4th
,with The Teknoist, Ladyscraper, Noizefucker, Sonnotek, Machinochrist, Ghost + Sk-R, Rigormortis, Centrifuge, Pokora & The Regime collectives. Tickets for this are available for
£5 advance, till 1st July!!!!


and also have a new release; The debut album from
Kinsheeva
......
KR007 - Kinsheeva - "Evolution" [CD]

3 years since the formation on this project, psychedelic breakcore magicians, Kinsheeva, have finally released their debut.
Evolution is 8 tracks of unique, experimental, atmospheric breakcore/gabba, with a twist of speedcore, and punk/metal influence.
Known for their stunning live sets, and anticapitalist attitude, their album is a smooth running seemless 35 live performance, recorded onto disc.
Truely original breakcore! Dont miss out!
Available for
£3 (+p&p)
on Splatterkore Reck-ords, NOW!
all orders to: store@splatterkore.co.uk

http://www.myspace.com/kinsheeva

------------------------------------------------
Next Release:
KID CORRUPT - PRAGMATIC IDEAS